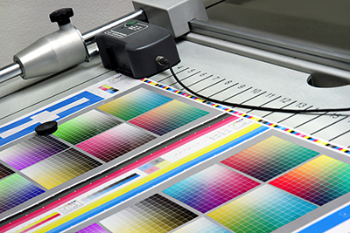 We utilize the most current technology in our industry. Our state-of-the-art equipment allows us to provide our clients with high-quality products on time and on budget.
We realize that most people could care less about what model of press or copy machine we use, so long as they receive what they ordered. Still, we can't help being proud of our toys.
Once you see how great they make you look, we hope you'll be proud of them, too.
HP Indigo 5900 Digital Press

The HP Indigo 5900 Digital Press delivers unmatched digital offset and photo quality with high versatility and productivity. Digital printing uses digital files to combine traditional offset or screen print strategies with unsurpassed quality. By using digital files instead of plates or screens, production costs are minimized while the speed and value are increased. In addition, the 5900 gives Identigraphix the ability to dramatically improve the graphic options available for our customers.

Our digital press can print up to 7 on-press inks enabling the use of HP Indigo's patented ElectroInk technology and wide digital color selections. These include using special effect inks and process colors for vivid printing and accurate on-press Pantone emulations. In addition, we're able to use true spot colors, mixed off press, for perfect PMS certified solids.

Digital technology, with its ability to print variable data on a variety of substrates, has had a major impact on the screen printing industry. Versatile substrate capabilities produce finished products that are durable and UV resistant in the most demanding environmental conditions.

Identigraphix can produce printed overlays, labels, membrane switches and many other durably printed items. Our Indigo press allows us to deliver cost effective, on demand, short to medium jobs that will impress even our most demanding customers.